Up Your Summertime Game with Wellness Retreats
Summertime is officially here! Now is the perfect time to unwind. But before you ditch the coat and boots, and jump into your sundress, ask yourself, 'how am I going to invest in my  self-care this summer?'
Prioritizing your peace and wellness is important to your mental, emotional, and sexual wellbeing. As unapologetic Upspoken women, we can preserve our magic by investing in our self-care. The deep-seated stigmas around seeking professional guidance for mental health support are starting to be uprooted in our culture as Black women are again leading the pursuit to gain more support to get their balance on. That's why wellness retreats have become all the rage for sisters who want to mix some mindful meditation into their vacation.
As you watch your #WCW soak in the sun at a wellness retreat, "om"ing her way to self-care bliss, her latest social media post might leave you wondering, what in the world is a wellness retreat? Upspoken has some answers for you! We're unpacking the great mystery of these wellness retreats that refresh, recharge and revitalize.
What in the world is a wellness retreat?
Let us break it down for you, sis. Wellness retreats are uniquely designed programs of therapies and activities made for a supportive group working toward a similar goal. Wellness retreats are often guided by experts, to provide an experience that will improve your overall physical, mental, or spiritual state. Casually dubbed "wellness getaways," wellness retreats serve a dope blend of fun, connection, relaxation, self-discovery and vacationing that will leave you feeling recharged.
Why are wellness retreats so lit?
You are already putting in that werk to get the mental health support you need. While you wait for your breakthrough, a little getaway never hurt nobody. If you're not convinced yet, here's why wellness retreats are lit: they're a great supplement to therapy! You don't always have to talk it out. So for all our sisters who want to switch up their therapy routine, this is for you. Black women are turning to wellness retreats for a moment to reset. Whether you're trying to get your yoga on or looking for a spa treatment, wellness retreats come in all shapes and sizes, offering something just for you. With so many activities, events, and workshops on the itinerary, for large groups and small, consider yourself no longer waiting to exhale.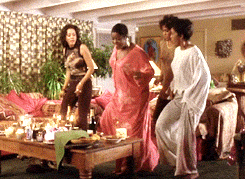 Where they at?
Now that we have you convinced to get your wellness on, we're serving you up with a list of wellness retreats for Black women by Black women. You're welcome! So what are you waiting for? Sit back, relax, and enjoy these Upspoken approved wellness retreats.
Upcoming: August 4
Feel like getting your namaste on? "Om" your way to new heights with Oya Yoga Retreats for Black women. Oya Retreats delivers holistic movement and mindfulness experiences to Black women and women of color abroad. Guests are offered room to explore, reflect, release, and renew.
Women of Color Healing Retreats
Upcoming: August 25-31
Women of Color Healing Retreats is a space for Black women to experience a self-care getaway in Costa Rica. Held in an exclusive and intimate "jungle house," the Women of Color Healing Retreats offers you a safe space to hear and see yourself in nature.
Upcoming: January 2020
Where our working women at? If you're trying to get balanced and slay your career, this retreat is for you. Happy Black Woman provides online trainings, live events, and retreats that will guide you through mastering the practical aspects of your personal and professional growth. You will have the tools and strategies you need to manifest the life and business of your dreams.
Upcoming: TBD
OMNiore is dedicated to creating a wellness social community for women of color that encourages living well from the inside out. With the mission to connect like-minded women through their events, retreats and online platforms, OMNiore strives to cultivate strength, growth and positive manifestation through their transformational wellness retreats.
Don't want to break your bank?
I feel you sis. You are trying to keep those pockets intact. If a wellness retreat ain't in your budget, you can practice self-care in the comfort of your home or around the corner! Just like a wellness retreat, set an agenda for yourself and then pencil in "me" time. Schedule your weekend activities at home or at a  local studio that will give you bliss. Here's how.
The key to living your best life is putting your self-care first. Now that we've put you on game with everything you need to know about wellness retreats, it's time to get your soul-soothing on this summer!