Michelle Obama Gets It Done
Former First Lady Michelle Obama has always been an example of intellect and individuality. She is not only professionally accomplished (she graduated from Princeton and Harvard Law), but she lives her life with conviction, passion, and oh-so enviable style.
Being the first Black First Lady was no easy feat, and Michelle openly acknowledged that the journey was challenging. In a speech she gave at Tuskegee University, she explained how she often obsessed over her every action. "Was I too loud, or too angry, or too emasculating? Or was I too soft, too much of a mom, not enough of a career woman?" She realized, however, that focusing on other people's thoughts about her didn't serve her. Instead, she decided to answer essential questions about who she was and what she cared about to guide her in becoming the woman she is today.
Michelle may not work in the White House anymore, but we are still keeping up with her! She's busy on a book tour for her new memoir and is still encouraging us all to be better citizens.
Last week, she took the stage virtually at the annual BET awards show Black Girls Rock with a call to action: get out and vote. She asked women of color to vote because she knows we know how to get things done. After all, change only happens when we use our voices to say what we need from our leaders.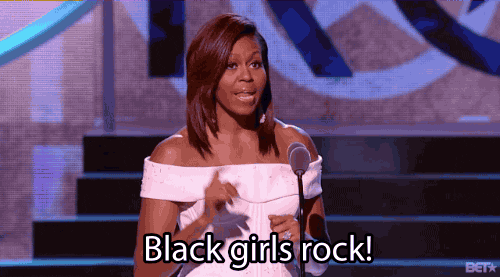 She's also got a stacked list of celebrities promoting her GOTV message including multi-talented singer, actress, and model Janelle Monáe. In a recently released PSA, Monáe describes voting with her grandmother when she turned 18. "She made sure to remind us that these rights were not given to her, given to her brothers and sisters," said Monáe.
If you haven't registered to vote, register at When We All Vote.